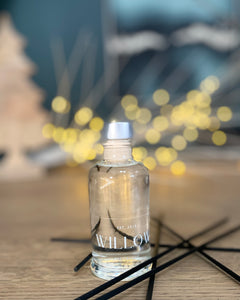 CHRISTMAS DIFFUSERS
Regular price
£20.00
£0.00
Tax included.
Shipping
calculated at checkout.
Enjoy the Christmas ambiance in your diffuser. From the warming tones of spiced orange in our WINTER Diffuser to the traditional hints of pine or fir trees in our White Christmas & Christmas Tree scents.
WINTER
It's not Christmas without the scent of spiced orange filling the air.
WHITE CHRISTMAS
Dreaming of a white Christmas? A refreshing fragrance with herbal and pine tones, and beautifully mixed with fruity orange and raspberry. With a hint of of warming spice to bring you in from the cold.
CHRISTMAS TREE
Looking for the perfect Christmas tree? Well here it is. A herbal scent with uplifting eucalyptus, pine, cedarwood and sandalwood.
Truly wonderful.
FRANKINCENSE & MYRRH
Captivating your senses & taking you on a Christmas Journey of opulence & anticipation of holiday excitement. Fresh hints of bergamot & a heart filled Lily of the Valley, this will elevate the ambiance.
Available in a Clear bottle with six fibre reeds.
~100ml
---
More from this collection